MXA'S WEEKEND NEWS ROUND-UP: NOT A SINGLE MENTION OF JETT LAWRENCE, ELI TOMAC OR KEN ROCZEN – Motocross Action Magazine
Trending

Motocross Action Magazine – The worlds leading publication about motocross and supercross.
2022 SUPERCROSS INTERNATIONAL STREAMING SERVICE: $129.95 (ONE-YEAR SUBSCRIPTION)
THIS WEEK IN MXA: MICHAEL MOSIMAN ON BANGING BARS WITH JUSTIN BARCIA
MXA VIDEO: WE TEST THE ALL-NEW 2022 YAMAHA YZ125 TWO-STROKE
MITCH EVANS INTERVIEW: EVEN AFTER A YEAR OFF, THE HRC HONDA MXGP TEAM HAS STUCK WITH…
THIS WEEK IN MXA: MICHAEL MOSIMAN ON BANGING BARS WITH JUSTIN BARCIA
MXA VIDEO: WE TEST THE ALL-NEW 2022 YAMAHA YZ125 TWO-STROKE
MXA VIDEO: WE TEST THE 2022 KAWASAKI KX250
MXA VIDEO: WE TEST THE 2022 HUSQVARNA FC250
MXA TEAM TESTED: SLATER SKINS HIGH-FLOW YZ-F AIRBOX COVER
MXA TEAM TESTED: 3DP MOTO YZ450F/YZ250F INTAKE SCOOP
MXA TEAM TESTED: TWISTED DEVELOPMENT 450SXF EXHAUST FLANGE
MXA TEAM TESTED: BOYESEN SUPERCOOLER WATER PUMP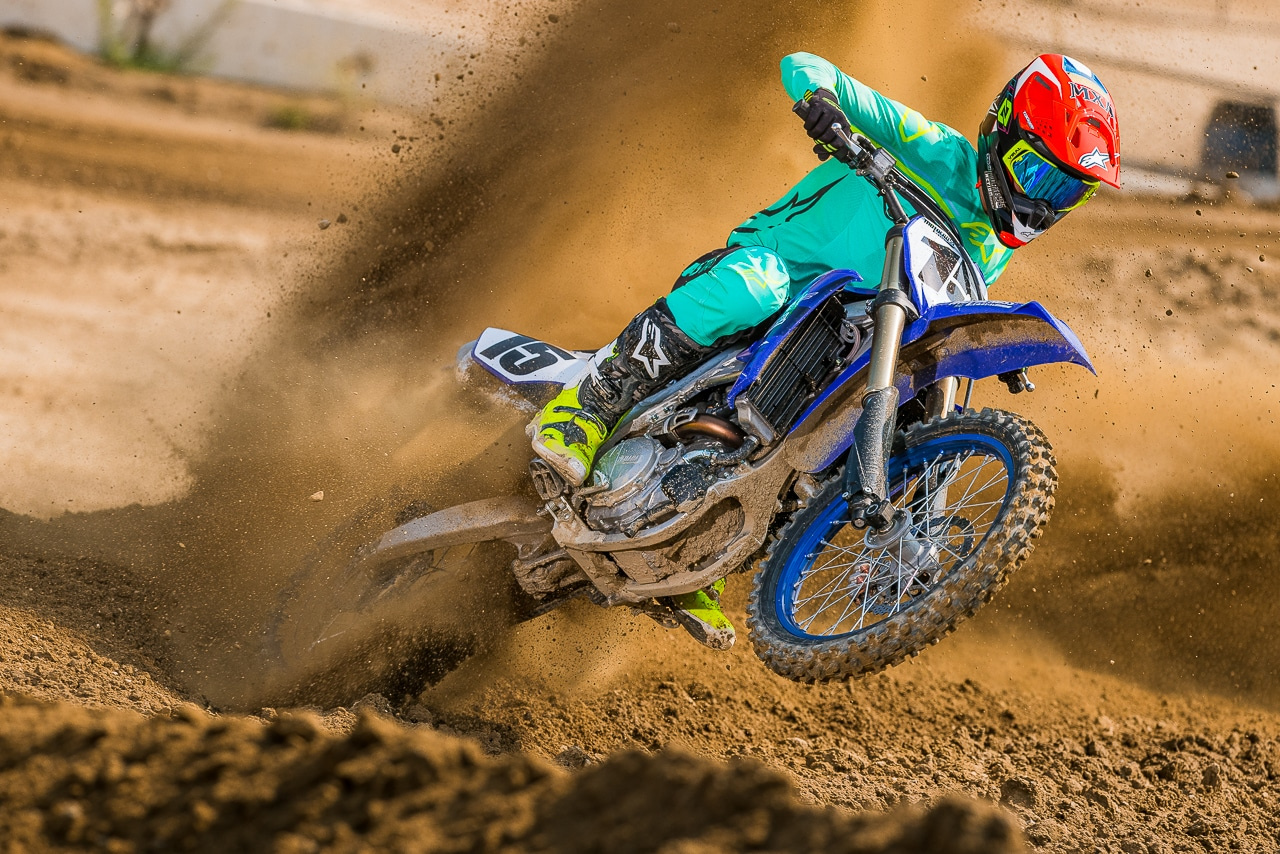 When a motocrosser sees that a new bike, like the 2022 Suzuki RM-Z450, KTM 450SXF, Husqvarna FC450, Kawasaki KX450, GasGas MC 450F or Yamaha YZ450F, has only received BNG (bold new graphics), he crosses it off his must-have list. BNG has often been the kiss of death. When buyers are constantly bombarded with "new," "radical," "ground-breaking" and "revolutionary," they don't find new graphics to be noteworthy. But, when it comes to the 2022 crop of 450cc motocross bikes, BNG is the new normal. There were no big changes to any of the seven popular 450 motocross bikes—save for Yamaha's new rear wheel and Husqvarna's switch from Magura to Brembo clutch hydraulics. Oh, there were little things on some of the bikes—KTM/Husky/GasGas added an Air/Oil Separator, Honda made last year's mid-season ECU recall permanent and there were the to-be- expected minor tweaks to the suspension settings, color palettes and graphics of the seven bikes. But, on the whole, 2022 was "The Year of BNG."
It should be noted that the only true-to-life new bikes in 2022 were the Honda CRF250, Yamaha YZ125 and, to a lesser extent, the Yamaha YZ250.
In a normal production cycle, it has become de rigueur for manufacturers to release redesigned, remodeled or heavily updated machines every four years. And, just by happenstance, there has never been a time when a majority of manufacturers released all-new bikes in the same model year. Which bring 2022 into question—not because of all-new models, but because of the dearth of them. The pandemic certainly played a role in causing turmoil with production schedules—factories were closed for large swaths of time, outside suppliers fell behind and timelines were juggled. All of the world's troubles made BNG the safest business model to adopt for 2022.
Is BNG the end of the world? No. Although it freezes the status quo in a time warp, if a bike is good, it stays good. Could it be better? Yes, but that's the year-to-year choice of the product managers. We decided to take a close look at the 2022 Yamaha YZ450F (as an average example that can be applied to most 450's over the last five years) to see if BNG is actually fatal. During the last five models years the Yamaha YZ450F has not sat still, even if the non-initiated think that the 2022 YZ450F is just a warmed-over 2018 model—it's not! Need proof? Here are the list of changes that Yamaha's engineers have made since the 2018 model was introduced.

This is the 2018 Yamaha YZ450F.
2018. With the addition of electric starting and Wi-Fi mapping, the 2018 YZ450F got new camshaft profiles, a redesigned crankshaft, a higher-compression piston and a 44mm Mikuni EFI throttle body (instead of Keihin). The cylinder was slanted 2 degrees more upright. The radiators were enlarged, the muffler was moved farther forward and the radiator shrouds were redesigned. The seat was 9mm lower at the front and 18mm lower at the rear. The bar mounts were raised 5mm, and the now-aluminum head stays were repositioned lower on the cylinder. Oh yeah, the rims were blue anodized.

This is the 2019 Yamaha YZ450F.
2019. For 2019, the YZ450F received updated Kayaba SSS suspension valving, more rigid fork lugs, stiffer wheel collars, less drag on the electric starter system, 16-percent-denser seat foam and a blue valve cover. The transmission and clutch were overhauled for a more direct connection, as well as enhanced durability. Revised gears with a wider surface area, updated clutch plates and a stiffer clutch pressure plate enhanced the driveline.

This is the 2020 Yamaha YZ450F.

2020. The cylinder head was 10mm narrower. The breather hose outlet was moved to the valve cover. The head pipe was attached with two studs instead of three. The camshafts were moved 14mm closer together. The cam towers were 6mm lower. The valve stems were 6mm shorter. The valve angle was 7 degrees more upright. The combustion chamber volume was reduced 6.65cc. The compression was raised from 12.9:1 to 13.0:1. The spark plug extended 4.9mm into the burn area. The top ring's tension was increased by 10 percent. The connecting rod was made 1.5mm longer to reduce friction by 2 percent. A new ECU map improved low-rpm throttle response. The exhaust pipe was 3.2mm larger at the first turn of the mid-pipe (38.1mm to 41.3mm diameter). The regulator and rectifier were bundled into one unit.

This is the 2021 Yamaha YZ450F.
2021. The 2021 YZ450F was a pure BNG bike. Why didn't Yamaha do anything to improve the 2021 YZ450F? Three reasons: (1) The four-year production plan only guarantees a return on investment if there are no changes to the 2018 YZ450F through the 2021 model years. Of course, there will always be small updates to fix flaws that surface during the first year of production, but the list of Yamaha's mechanical changes over since 2018 far exceeded what the pencil pushers in accounting expected. (2) Since the 2018 YZ450F was introduced, Yamaha had made a lot of expensive changes in 2019 and 2021. (3) At some point, a corporation has to slow its roll and try to make a profit, Yamaha chose the 2021 YZ450F to stand pat.

This is the 2022 Yamaha YZ450F.
2022. We don't know if Yamaha had plans to update the 2022 YZ450F, and had those updates thwarted by the pandemic, but all of the changes for 2022, save for cosmetics (like in-mold graphics), were focused on the rear wheel. Thanks to a lighter hub (28 grams), lighter sprocket (42 grams) and lighter chain (73 grams), Yamaha saved 5 ounces of unsprung weight on the rear wheel; however, that weight savings was offset by the added weight of the 36 longer spokes used on the new cross-3 spoke pattern.
In short, BNG over the last five years Yamaha didn't spell disaster for the YZ450F. Why not? Yamaha's engineers made constant improvements to the YZ450F's performance in 2018, 2019 and 2020—enough that they could afford to ride the wave for 2021-2022. Each brand has it own story, KTM didn't make any changes for 2022, because they have totally new bikes coming out for 2023 (and there was no use in spending R&D money on the old model, when they could use it for the new 2023 bikes). As for Suzuki, that's a different story.


If you don't subscribe to MXA, you are missing a whole different world of motocross news, facts, test and photographs. For example, the just released January 2022 issue includes a complete and thorough test of Jo Shimoda's Pro Circuit Kawasaki KX250 and Dilan Schwartz's Bar-X Suzuki RM-Z250. Not only did Jo become the leading rider on the Pro Circuit team (after being picked up in a try-out after the Geico Honda team folded and left Jo without a ride), better yet Dilan did what they said couldn't be done when he put his often-berated RM-Z250 into the top ten at the 2021 AMA 250 National Championships. If that's not enough, we give the 2022 Husqvarna FC450 the full test treatment and tell you all the things we found to make it better. Plus, we run the 2022 Yamaha YZ450F and Honda CRF450 through their paces. When you're done reading the bike tests, take the time to sit down and read Jim Kimball's interview with Billy "Sugar Bear" Grossi and Josh Mosiman's interview with EKS Brand's Rich Taylor. You will be surprised by their takes on living the motocross lifestyle. Plus, much, much, much more.


You can't afford not to subscribe, because when you get order a $19.99 subscription, Rocky Mountain ATV/MC sends you a $25 gift credit to use on anything you want from their massive selection. Plus, subscribers to MXA can get the digital mag on their iPhone, iPad, Kindle or Android by going to the Apple Store, Amazon or Google Play or in a digital version. Even better, you can subscribe to Motocross Action and get the awesome print edition delivered to your house by a uniformed employee of the U.S. Government. Do we have to mention the $25 Rocky Mountain ATV/MC gift card again? You can't lose on this deal? Call (800) 767-0345 or Click Here


The VForce 4R reed valve system is the next step up from the VForce 3, which was a successful two-stroke reed valve system for over 15 years. With a completely new design that has increased the reed-tip surface by 10 percent, the VForce 4R is able to improve performance and durability for your two-stroke engine.
Two-stroke engines suck their fuel/air mixture through the intake tract into the engine when the piston rises, creating a vacuum in the crankcase. As the piston descends, it forces the mixture up through the transfer ports into the combustion chamber. The reed valve's job is to be a one-way check valve that prevents air/fuel backwash from spilling back into the intake instead of going entirely up the transfer ports.
Starting in 2004, the KTM SX two-stroke models came stock with a VForce 3 reed valve system. KTM sourced the Moto Tassinari VForce reed valve until 2014 when they spec'd their own proprietary reed valve, borrowing ideas from Moto Tassinari's twin-V design and eight petals. KTM copied the VForce 3 valve design and, ironically, started buying Boyesen's RC2 performance-weave carbon fiber petals for it in 2014.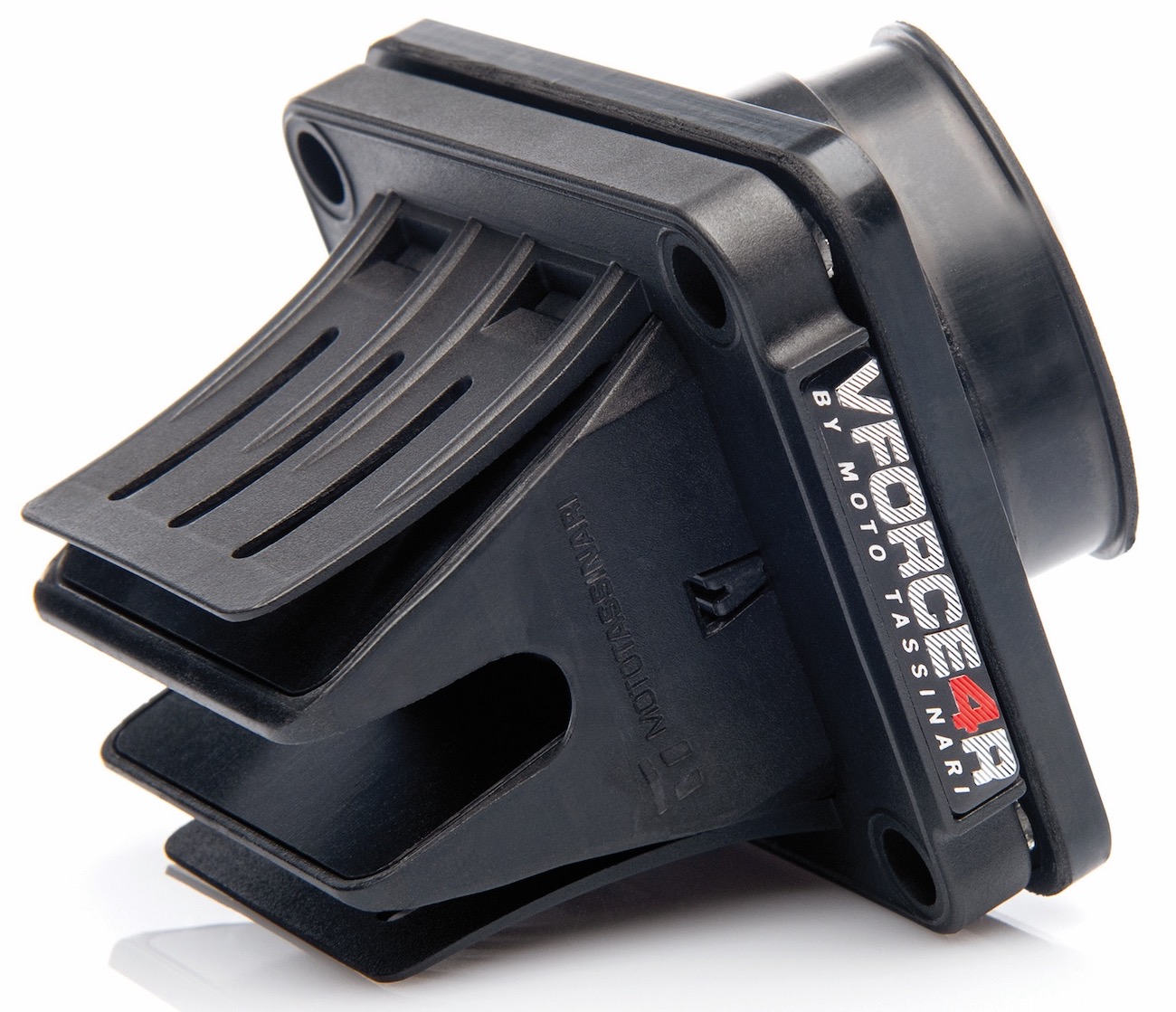 The Moto Tassinari VForce 4R reed valve system has an all-new manifold, reed cage and air-guide system, making it completely different from the VForce 3. Additionally, it has an all-new reed petal resin system, which is clearly visible to the eye. The twin-V has an extra stopper on each side. This is used for holding the reeds in place and managing the stress put onto the carbon fiber petals by not allowing them to open too far and accidentally stay open. The reed tip surface has increased by 10 percent over the former VForce 3 systems, which equates to more air flow. New pre-curved reed petals ensure a better seal at the tip, and the frontal area of the central wing has been reduced by 15 percent to improve aerodynamics as well. Additionally, rubber over-molding on the reed tip surface improves reed petal durability.
On the track, we noticed an improvement in the bottom and midrange of the power. The VForce 4 helped the initial throttle feel crisper, but the biggest difference it made was in the midrange. When compared to stock, the extra air flow of the VForce 4R reed valve gave us more power in the middle of the straights. When we went back to stock, it felt "flat" in the middle.
If you hold your VForce 4R reed valve up and can see light squeaking through, don't fret. Moto Tassinari explained that's normal for the VForce 4R, and they designed it that way. If a piece of paper can fit through, that's okay. If it's big enough for a credit card, then you have issues.
DIGITS: $168.00 — www.mototassinari.com or (603) 298-6646.
MXA RATING: The VForce 4R improves the bottom and midrange. If you want a cleaner throttle response and a stronger midrange, the VForce 4R is for you — especially for YZ125 and YZ250 owners.

Checked Globe Olive hat—$23.92
Hats are one of the best ways to show your affinity for something you love and with the holidays just around the corner, Pro Circuit has just dropped three new hats for you or the fan in your life. The notable Pro Circuit Globe is the focal point of two of the new designs, with the first being a well-liked Richardson Snapback. The Checkered Globe Hat in olive features a custom checkered globe patch stitched on the front and a mesh snapback in the back.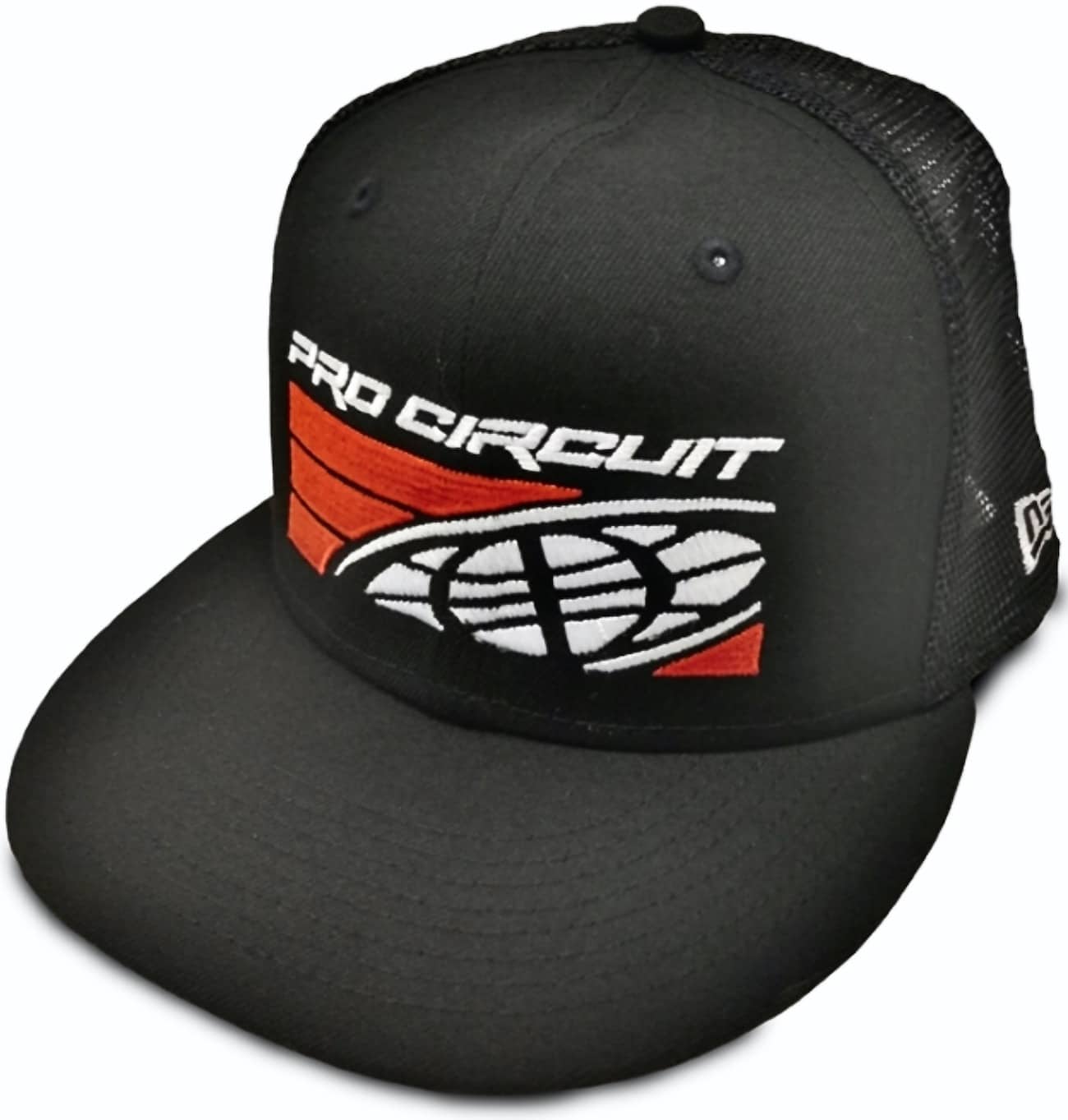 Pro Circuit Global black hat— $39.82
The two additional hats are New Era 9Fifty trucker-style snapbacks. The Globe Hat in black has the iconic logo embroidered on the front, while the back features the adjustable plastic snap closure for the perfect fit.

Pro Circuit Racing PCR hat—$41.75
The final hat enjoys all the top-notch features of the New Era 9Fifty hat, while showcasing the well-known Pro Circuit Racing (PCR) logo embroidered on the front. Any of these three hats bring the legacy of the Pro Circuit brand anywhere you go! To order go to www.procircuit.com.
All times Eastern (subtract three hours for Pacific Time Zone).


STI's Tech 2 off-road motorcycle tube are made from high-quality butyl rubber, with reinforced valve stem construction and consistent material thickness throughout. Best of all, the Tech 2 tube line comes in three thickness options. The Heavy-Duty STI tube is twice as thick as standard original-equipment tubes at 2mm thick. The Extreme-Duty tube is 30-percent thicker than most heavy-duty inner tubes at 3mm thick. The Ultra-Duty tubes are designed for the most severe riding conditions, like a loaded adventure bike or long distance rally bike. With 19 different tube sizes available, STI Tech 2 tubes will appeal to a wide range of off-road and MX enthusiasts. The suggested retail prices range from $6.95 to $31.95. For example, a 80-100/21 Heavy-Duty front STI tube is only $12.95, while a 110-90/19 Heavy-Duty rear tube is $16.95 See you local dealer (he can get them from Parts Unlimited) to find out more.

The 1982 Honda CR480 got Honda back on the proper track after the disaster of the 1981 CRF450. The four-speed, 472cc, air-fooled, reed valved, two-stroke was a joy to ride.


"The Fire Power lithium battery is the most tried and true lithium battery on the market today. We have the most fitments available for a better fit and excellent cranking power so you don't have to worry when starting your motorcycle. We also stand behind our products better than any other brands while saving our consumers a ton of money over the OE lithium units." —Kirk Alves. Retail price: $96.95 to $397.95 at www.firepowerparts.com or (208) 376-8400.

To find out more go to www.ossrg.org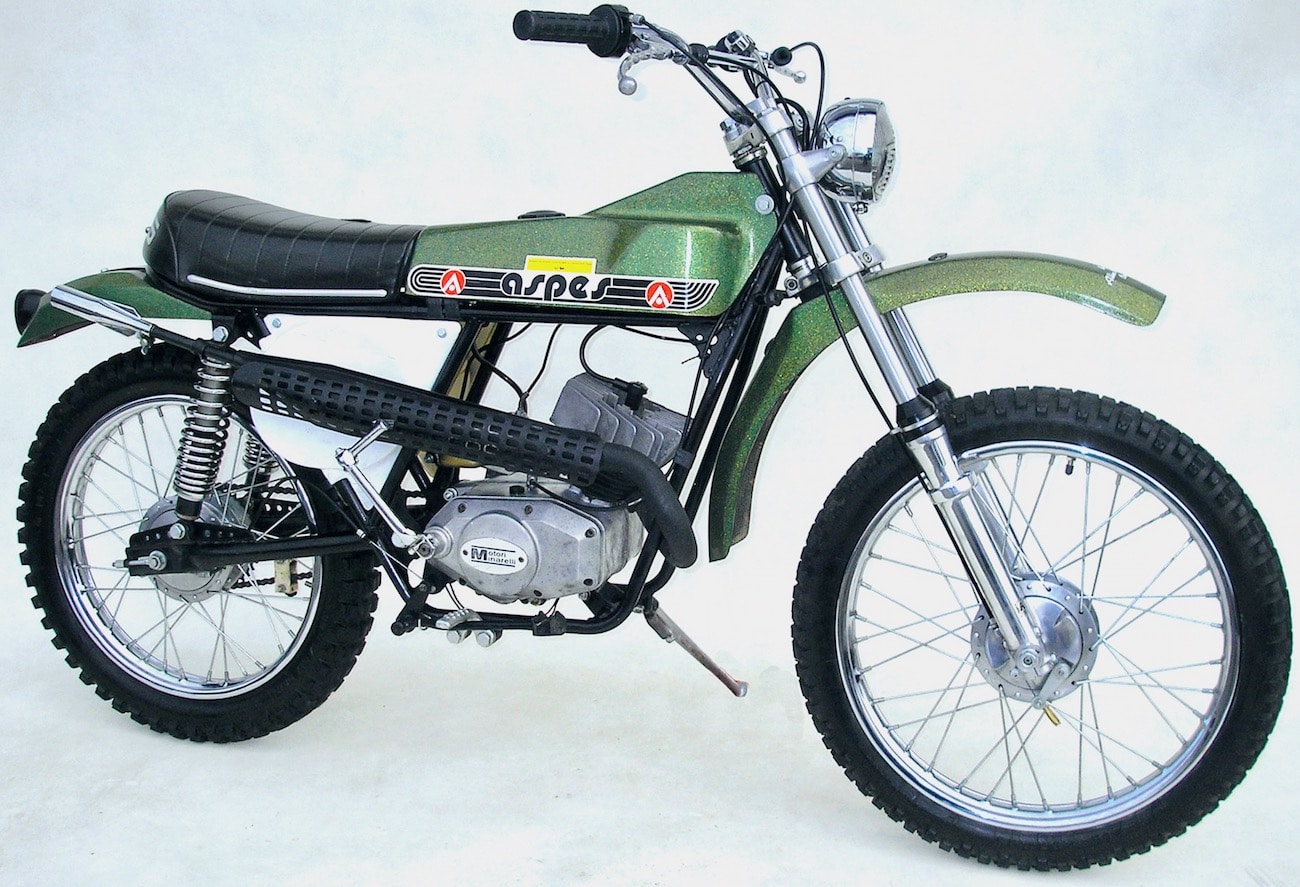 The 1972 Aspe Navaho 50 was designed at the Italian youth market—which explains metal flake paint job.
Moto Aspes was founded in 1955 on the outskirts of Varese, Italy. The name Aspes was officially Aspes Fabbrica Cicli e Ciclomotori. Originally a bicycle manufacturer, in 1968 they ventured into making light weight motorcycles with Minarelli engines. Their first off-road bikes came in 1969 in the form of the Cross 69 Special, which had a Minarelli two-stroke engine.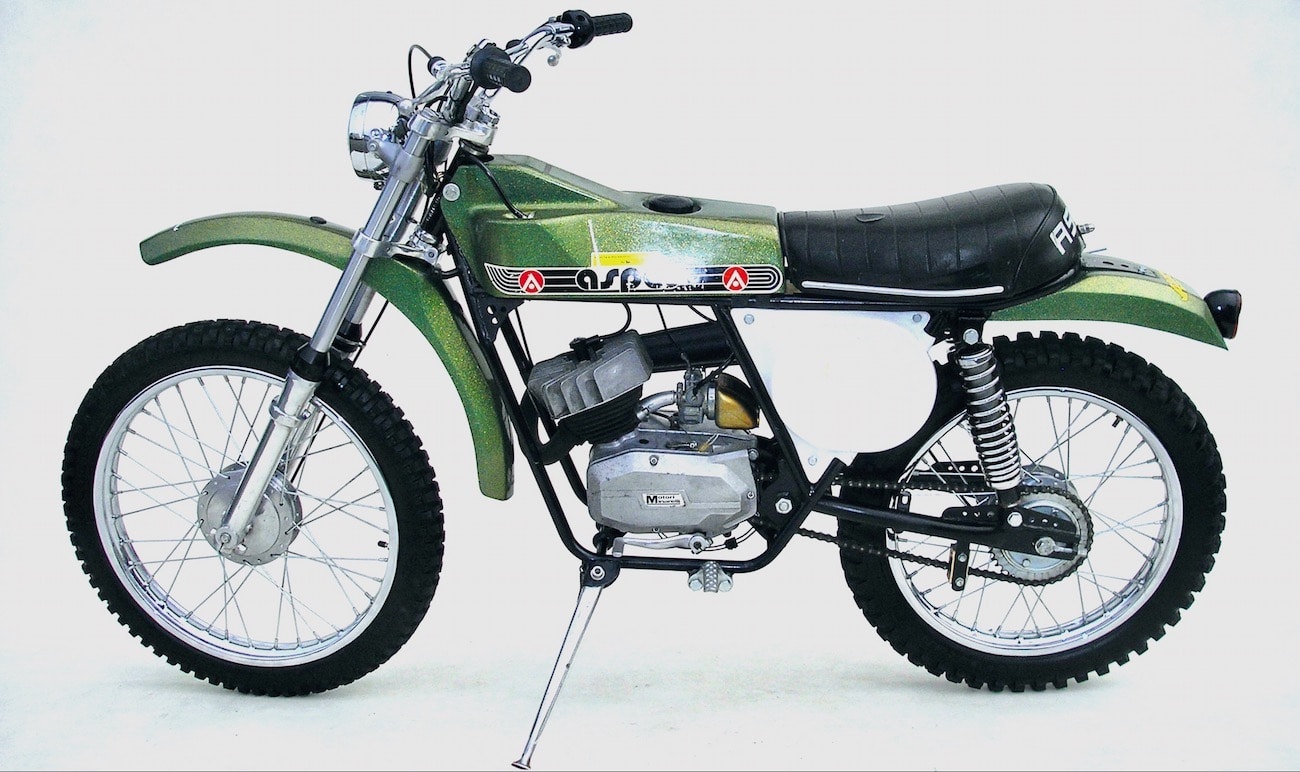 The Navaho was not a motocross bike, but it was raced and the off-road look appealed to young city dwellers looking for 50cc transportation around the city centers.
In 1967 he also started producing more serious motorcycles. They were initially all-terrain motorcycles. In 1970 Aspes introduced the Maico-powered Apache 125 and from that model on they started naming their models after American Indian tribes (Hopi, Navajo, Cheyenne, Sioux and Apache).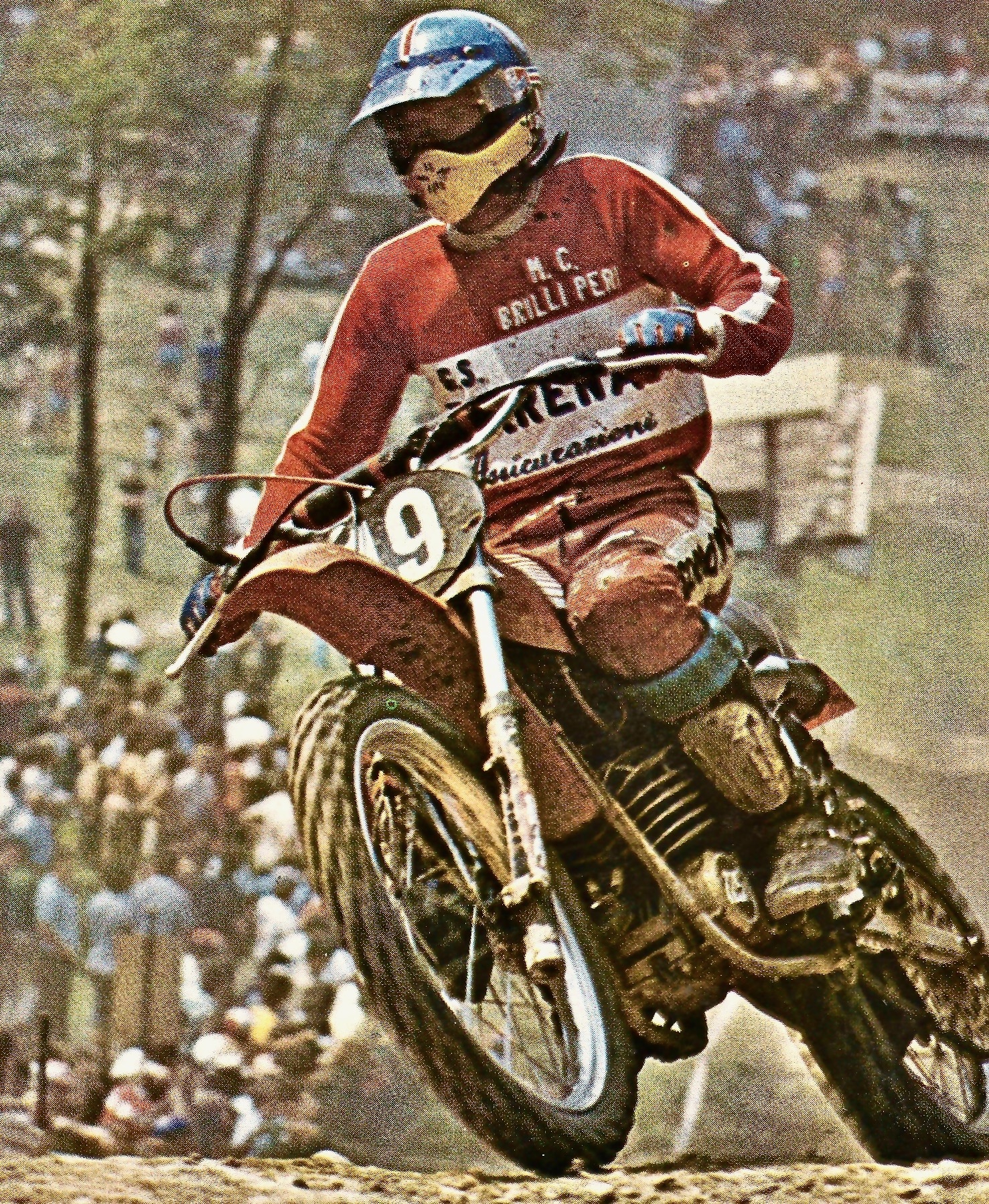 Felice Agostini.
In 1973, they begin shipping the first 125cc motocross model. It was named the Hopi. The engine was a two-stroke that made 20 horsepower at 8500 rpm. Italian stars Felice Agostini (brother of World Road Racing Champion Giacomo Agostini), Dario Nani and Corrado Maddii raced Aspes 125s. Top Aspes  models had expensive Ceriano fork and, in 1971, Felice Agostini won the Italian motocross championship for Aspes.

Corrado Maddii.
At the end of 1972 Aspes allied itself with the firm Consiglio. They started making front forks in collaboration with engineer Vito Consiglio. The new firm was named Asco (by combining the first two letters of Aspes and Consiglio) and started to produce its own engines. The first Aspes models with their own engine were delivered in 1973. These were the Aspes Hopi dirt bike and the Aspes enduro motorcycle.


In 1977, the range was completed with a range of inexpensive 50cc mopeds, most notably the Navaho, with a Minarelli Compact System engine. In 1978, they added the single-speed automatic Sioux 50 and the Mini Sioux with the Minarelli V1 kick-start engine.

Dario Nani.
Things deteriorated with the Aspes brand when it was acquired by Unimoto in 1982. Unimoto continued to make Aspes models for several years and even new models, like the Squalo 125, 125 Enduro TK, the Folk and the Carrera, but in 1985 the Aspes brand folded its tent for good.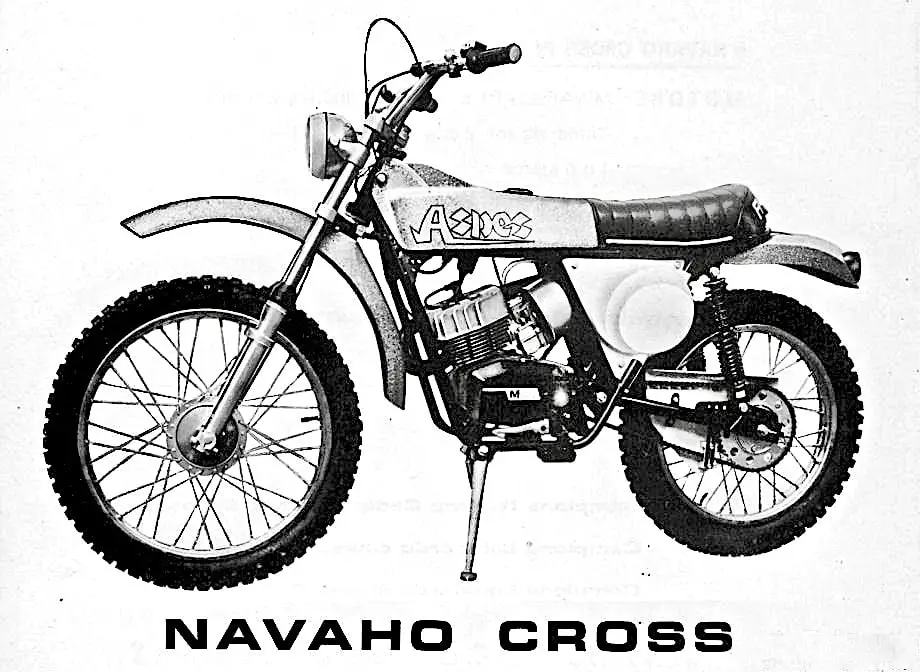 The Aspes brand was purchased by Menzaghi Motors of Varese in 2008. The name was applied to an USA-designed and Asian-built scooter with a Honda engine that charged its batteries to run the electric motor which drove it. It was called the Sirio Hybrid 50. The Aspes name ceased to appear after 2012, although production of the Sirio continued in China.


Take this MXGP schedule with a grain of salt—it will change, probably next week. The 2022 MXGP calendar features 20 Grands Prix along with the Monster Energy FIM Motocross des Nations which will be held at Red Bud on September 25, 2022.
2022 FIM GRAND PRIX CHAMPIONSHIP (TENTATIVE)
Feb. 20…Matterley Basin, England
Mar. 6…TBA, Argentina
Mar. 20…TBA
Mar. 27…Oss, Holland
April 10…Trentino, Italy
Apr. 24…Kegums, Latvia
May 1…Orlyonok, Russia
May 15…Rio Sardo, Sardinia.
May 29…Intu Xanadu, Spain
June 5…Ernee, France
June 12…Teutschenthal, Germany
June 26…Jakarta, Indonesia
July 3…Semarang, Indonesia
July 17…Locket, Czech Republic
July 24…Lommel, Belgium
Aug. 7…Uddevalla, Sweden
Aug. 14…KymiRing, Finland
Aug 21…St. Jean d' Angely, France
Sept. 4…Afyonkarahisar, Turkey
Sept.18…TBA

The hot item for GasGas motocross is UFO Plastic red vented side panels. The vented side panels allow more air to flow into the airbox, resulting in more power and stronger performance. It's most economical way to add horsepower. They're available in red, white and black for GasGas; orange, white, black and Flo Orange for KTM; and white, black, blue and Flo Yellow for Husqvarna. Retail price: $62.99 at www.ufoplast.com or (815) 756-9400.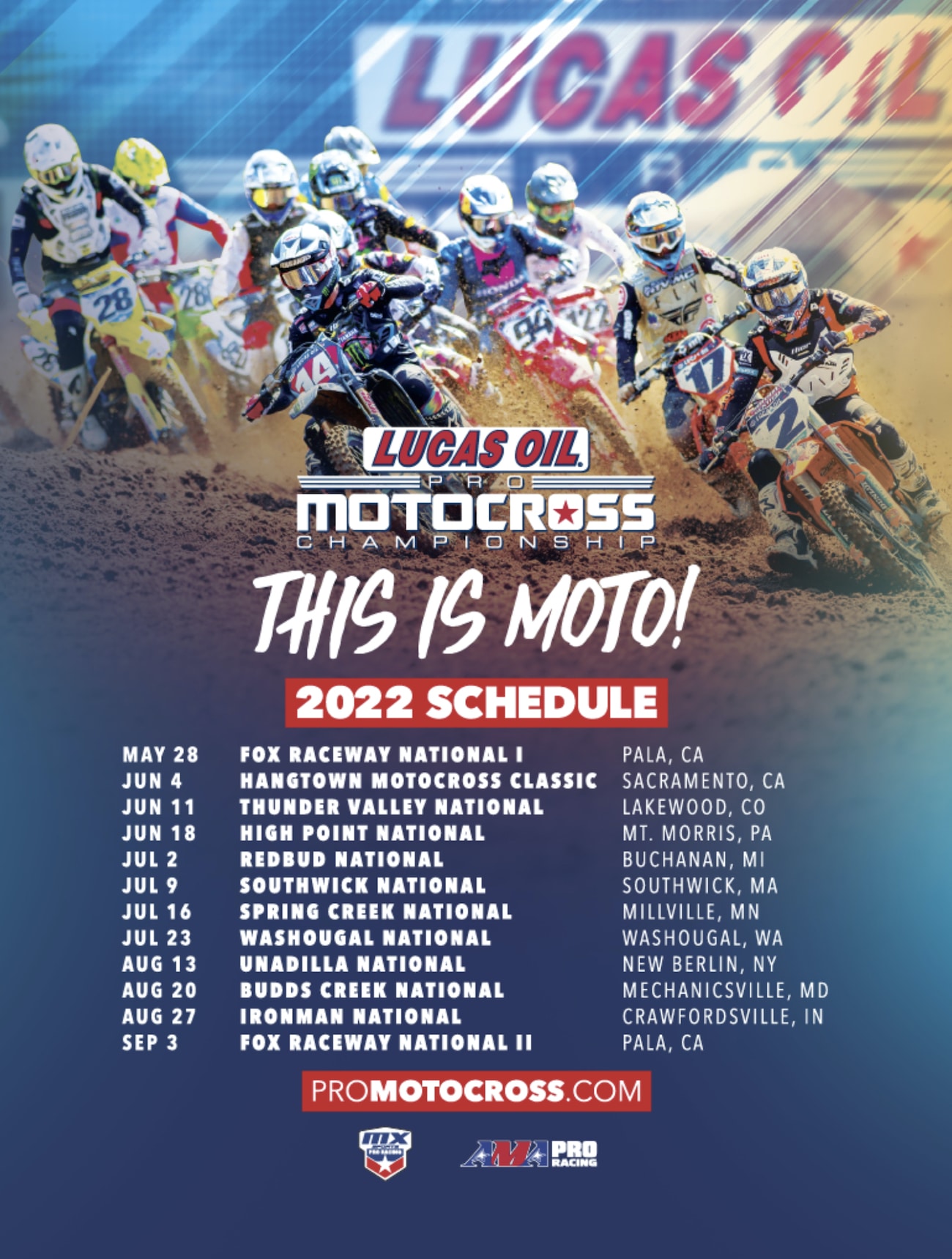 2022 AMA NATIONAL MOTOCROSS CHAMPIONSHIP
May 28…Pala, CA
June 4…Hangtown, CA
Jun 11…Thunder Valley, CO
June 18…Mt. Morris, PA
July 3…Red Bud, MI
July 9…Southwick, MA
July 16….Millville, MN
July 23….Washougal, WA
Aug. 13…Unadilla, NY
Aug. 20…Budds Creek, MD
Aug. 27…Crawfordsville, IN
Sept. 3…Pala, CA


2022 AMA SUPERCROSS CHAMPIONSHIP
Jan. 8…Anaheim, CA
Jan. 15…Oakland, CA
Jan. 22…San Diego, CA
Jan. 29…Anaheim, CA
Feb. 5…Glendale, AZ
Feb. 12…Anaheim, CA
Feb. 19… Minneapolis, MN
Feb. 26… Arlington, TX
Mar. 5…Daytona Beach, FL
Mar. 12…Detroit, MI
Mar. 19…Indianapolis, IN
Mar. 26…Seattle, WA
Apr. 9…St. Louis, MO
Apr. 16…Atlanta, GA
Apr. 23…Foxborough, MA
Apr. 30…Denver, CO
May 7…Salt Lake City, UT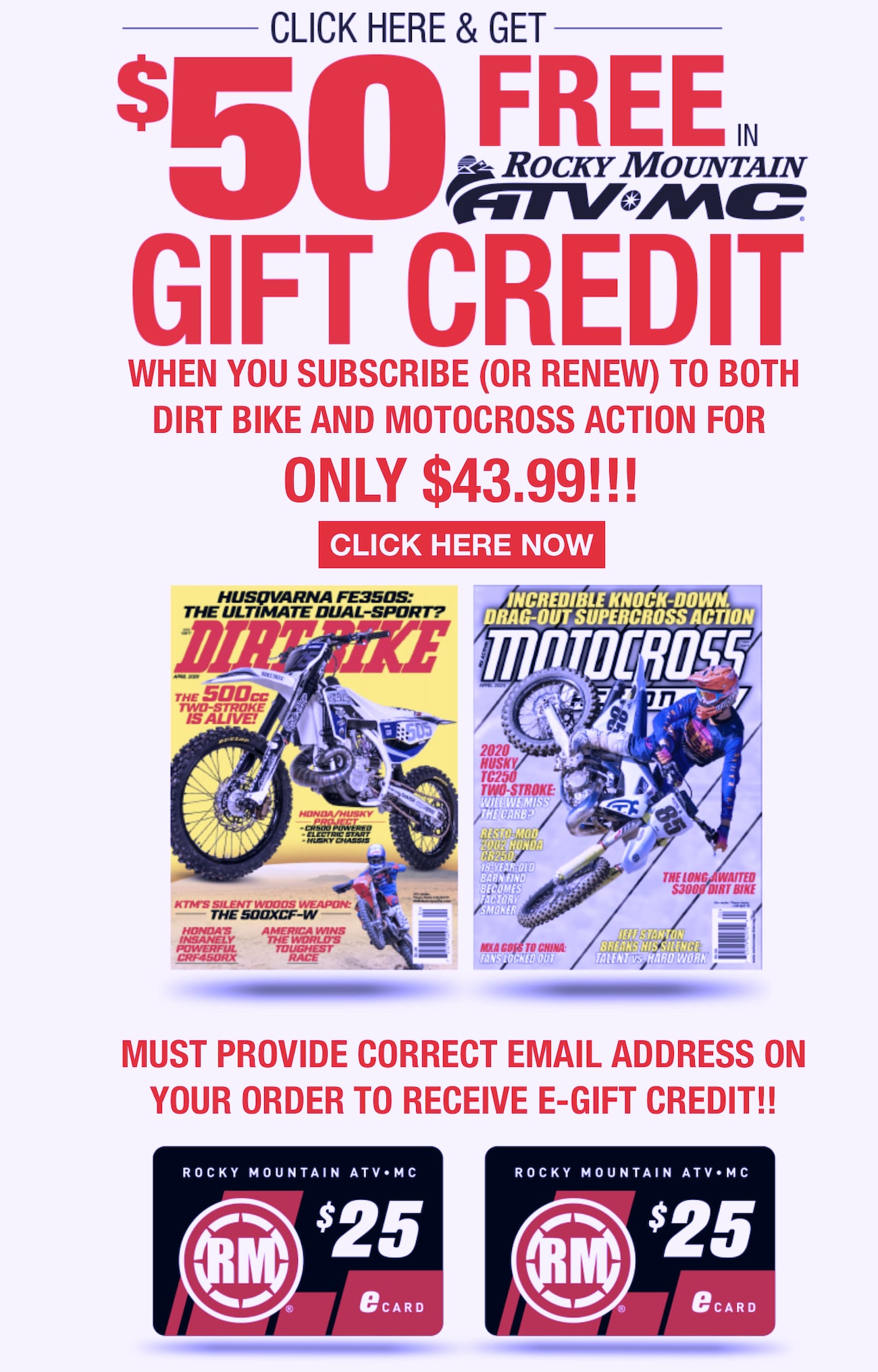 To get this awesome deal of two magazine subscriptions and $50 to spend on motocross parts, gear or accessories by Clicking Here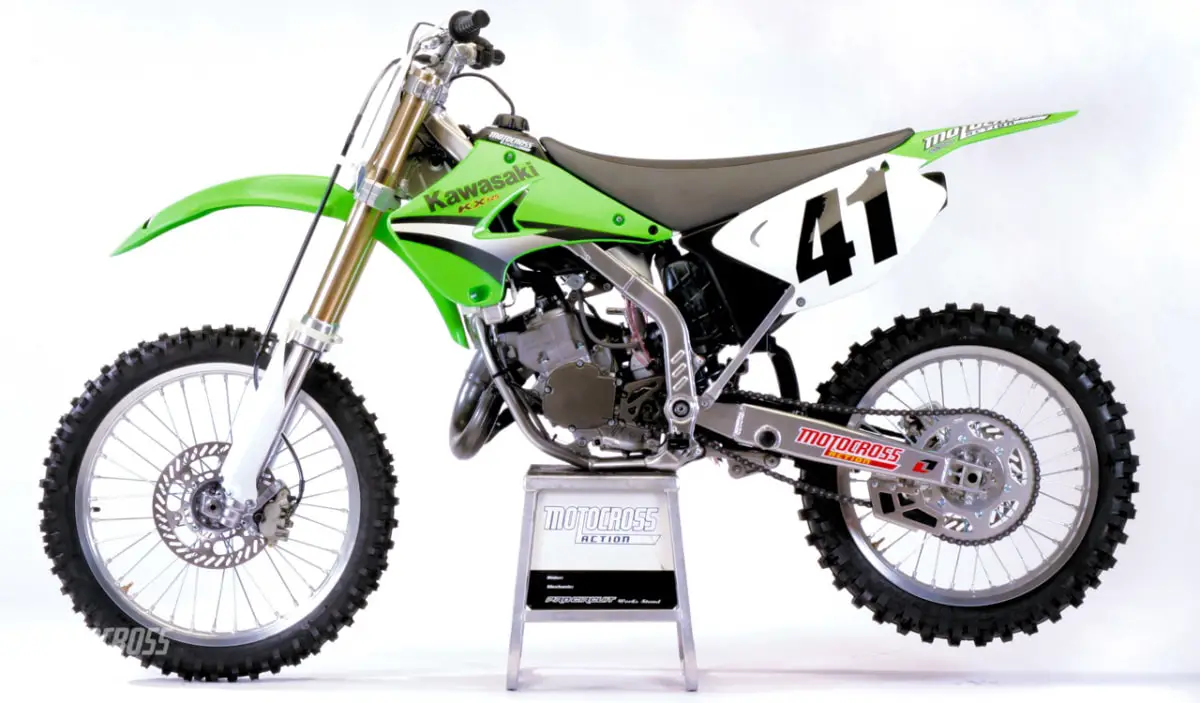 This story is from the November 2004 issue of Motocross Action Magazine.
Have you seen very many KX125s racing around your local track lately? Unfortunately, we haven't either. We do know that there is one kid doing pretty well on a KX125 in the AMA 125 Nationals, but his magic hasn't translated into a lot of copycats with money.
Why aren't herds of young racers rushing out to buy James Stewart replica KX125s? That's simple. Modern racers don't pay attention to race results any more. Ricky Carmichael didn't sell any CR250s for Honda, and Bubba hasn't sealed the deal for the KX125. We live in a four-stroke world, and the masses want to buy thumpers and, statistically speaking, Ivan Tedesco sold about 50 percent more of his machine than James Stewart did of his.

James Stewart unbelievable riding should have had people lining up to buy the 2005 KX125—they weren't.
Which leaves Kawasaki with a lot of unanswered questions. Is the 125 two-stroke a lost cause? Does it have enough power to run with the four-strokes? Did the engineers fix the handling flaws that plagued last year's machine? Does the 2005 KX125 have anything to offer over the KX250F? If professional racers don't sell motorcycles, how much money should a motorcycle manufacturer be paying them?
Without further ado, we give you the answers.
A: Come on, you've seen the new graphics. They're different. Okay, not a ton different. But to the discriminating eye, they do differentiate a 2004 from a 2005. Not much else has changed. Here is a complete list: (1) The seat is taller in the middle and has stiffer foam. (2) The right fork guard has been reshaped for fender clearance. (3) The rear brake pedal is mounted with a larger bolt. That's it.

This is the 2004 KX125. Other than BNG for 2005 the KX125 got a taller seat, reshaped right fork guard and the rear brake was mounted with a larger bolt.
A: It's a little faster. If they didn't make any changes, then how did they make it faster? Good question. The majority of mods that the 2005 engine received were for reliability issues. The left crankcase has been revised to allow more oil to reach the input shaft bearing. The reed valve guide was made more rigid and heat resistant to lessen heat deformation. The transmission input shaft is 2mm larger. The Mikuni TMX38X carburetor has a fuel collection chamber added to the pilot jet. And, last but not least, the ignition has a waterproof coupler on the ignition coil.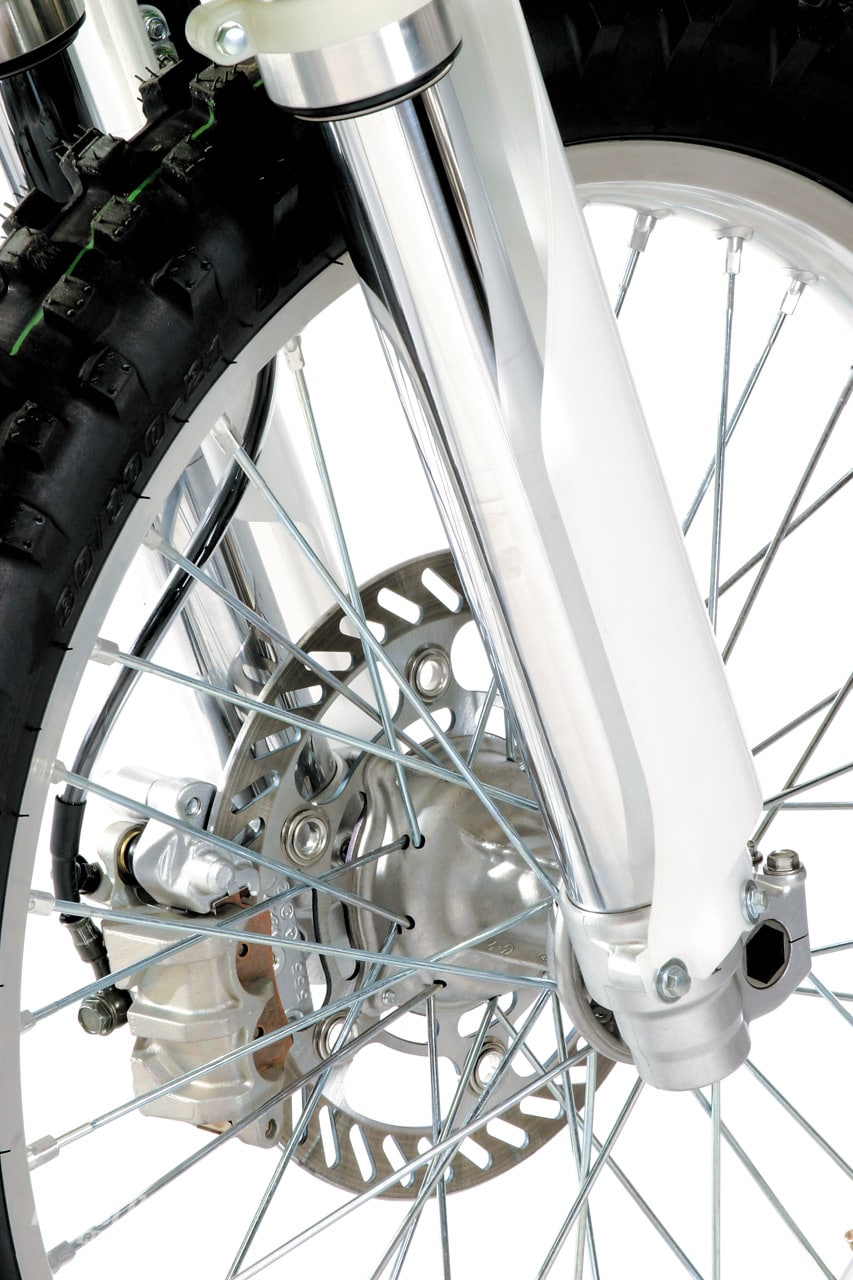 The right fork guard was reshaped from 2004 to 2005 for fender clearance.
We can't blame Kawasaki for soft pedaling the 2005 modification program. After all, they made a ton of changes to the 2004 model, and the 2004 model was really fast. By not messing with any of those changes, they made sure the 2005 KX125 is still really fast. But why is it faster than last year? We think that Kawasaki changed the maps on the ignition system, but they don't have info to confirm our suspicions.
A: It's fast. We've spent the last month tearing around the track on Yamaha's all-new YZ125, and we must admit that the 2005 KX125 is faster than the Yamaha in a drag race.
With all the modifications Kawasaki made in 2004, the KX125 has a pretty sweet powerplant. It is still a little doggy off the bottom, but it comes on really hard in the middle and, thanks to the new ignition mapping, pulls farther on top than it did in 2004. The 2005 KX125 is a fast 125cc two-stroke, make no mistake about it. It can run with any 125cc two-stroke made and has a fighting chance against the thumpers.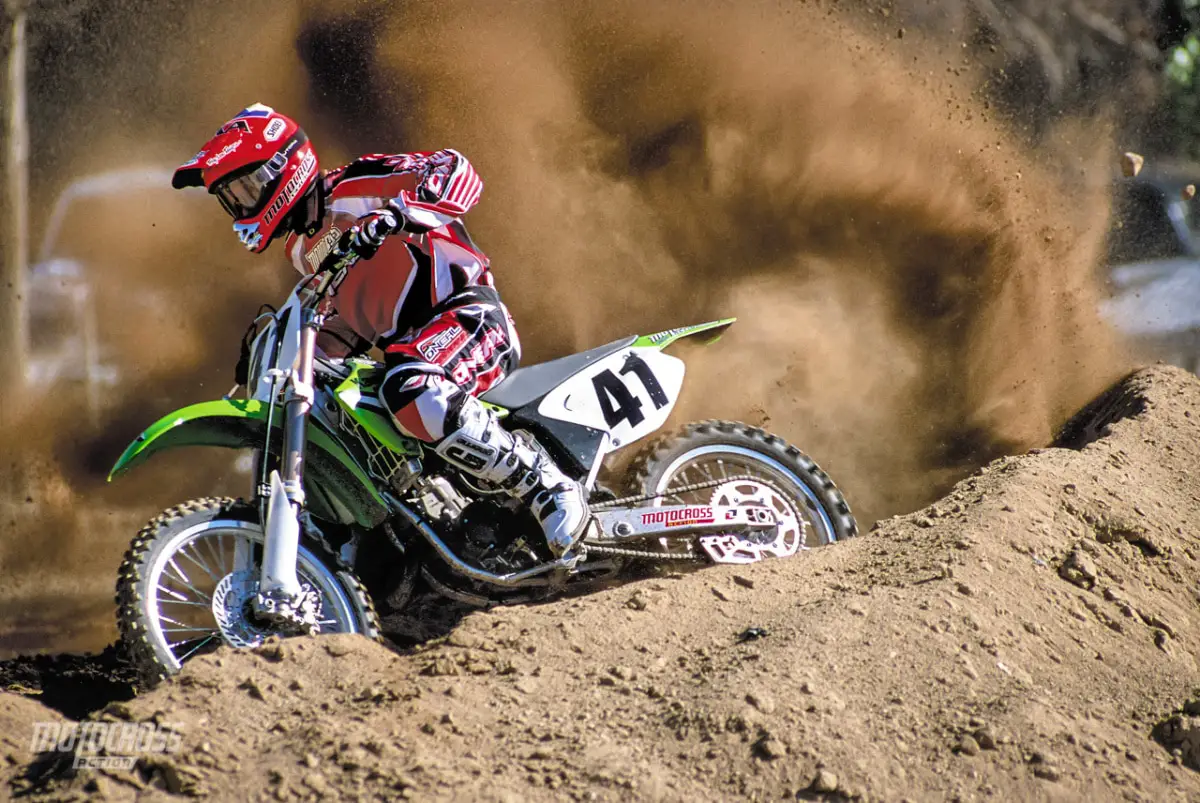 The 2005 KX125 was faster than the 2005 Yamaha YZ125 in a drag race.
A: Absolutely. We drop kicked the 51-tooth rear sprocket in favor of a 52, and the KX125 couldn't have been happier. The lower gearing stopped us from fanning the clutch to get out of corners in second. It made second gear more usable, which translated into a seamless transition to third (and less clutch abuse).
A: No. One of Kawasaki's major flaws in 2004 was the suspension setup. It was unbalanced–in a psychotic sort of way. Unfortunately, the 2005 suspension didn't benefit from any remedial help. The only change to the suspension was new low-friction oil seals in the forks (in our opinion, this will probably translate into more blown fork seals). Everything we said about the 2004 suspension still applies in 2005.
A: The rear feels really high and the front feels really low. Classic stinkbug. On the track, this setup translates into a very busy front end (head shake, oversteer, wandering and twitch). Meanwhile, the rear end stays high, which contributes to its tendency to kick over braking bumps and pack on landings.
A: Yes. There are two ways to fix the KX125–cheap and expensive.
Cheap: Slide the forks down into the triple clamps until they are flush with the top of the clamp. Set the front fork compression on 14 clicks out. Measure the race sag and set it at 105mm. Now, go ride the bike. If the back still feels high, you can go as far as 110mm of sag (don't go beyond 110mm). Adjust the shock's compression and rebound (starting with the stock settings).
Expensive: The Tiffany setup is to install Pro Circuit's works linkage. It comes straight off the bikes of James Stewart, Ivan Tedesco, Stephane Roncada and Matt Walker. It changes the ride height, rising rate and feel of the back of the bike. You will still have to fiddle with the front fork height and clicker settings, but the $450 linkage turns the otherwise unbalanced KX125 into a balanced piece of machinery.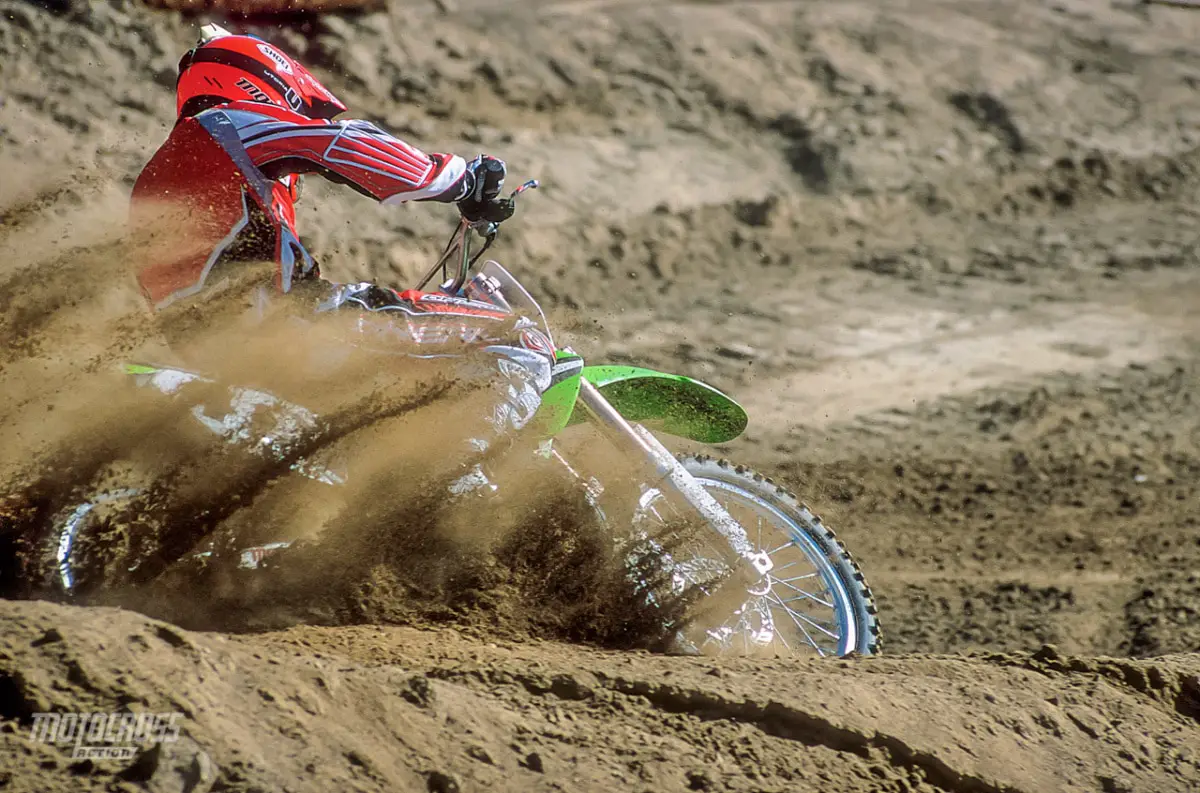 A: The hate list:
(1) Balance: The KX125 felt out of balance in 2004, and, since they didn't change a thing for 2005, it still does.
(2) Handlebars: With Honda, Yamaha, Suzuki and KTM all jumping on the aluminum bandwagon, Kawasaki is the sole Japanese-made steel holdout.
(3) Shock: The setting is still too stiff for the average 150 pound 125 pilot.
(4) Clutch perch: Didn't Kawasaki get the memo about on-the-fly clutch perches? They are the only manufacturer not to have one.
(5) Graphics: The least Kawasaki could have done was made them look radically different from 2004.
A: The like list:
(1) Power: The bike is fast. It comes on super strong in the middle and revs to the moon.
(2) Front brake: With Honda-style brake hose routing and new pad material, the front brake has pucker power.
(3) Maintenance: We had forgotten how easy it is to work on a 125cc two-stroke. Kawasaki's perimeter makes everything easily accessible.
(4) Tires. Last year it came with hard pack-oriented Dunlop D739s. This year, Kawasaki switched to the more intermediate-friendly Dunlop D742 and D756 combination (although we would have preferred a 756 front over the 742).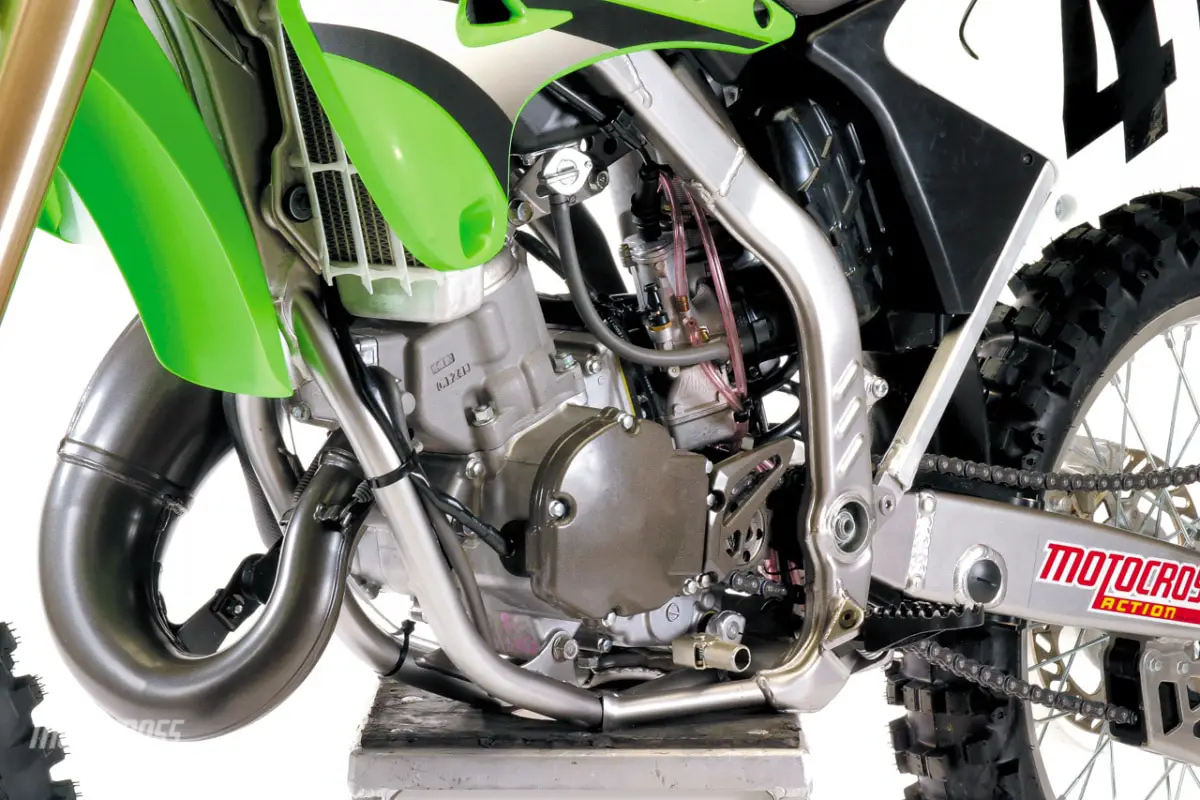 A: BNG. Ever heard the phrase? BNG is industry-speak for "Bold New Graphics" (which means that the bike is unchanged except for the decals). Historically, minicycles, play bikes and Open class two-strokes have been the recipients of BNG–not premier race bikes. Let's hope the 2005 Kawasaki KX125 isn't the start of this trend for competition two-strokes.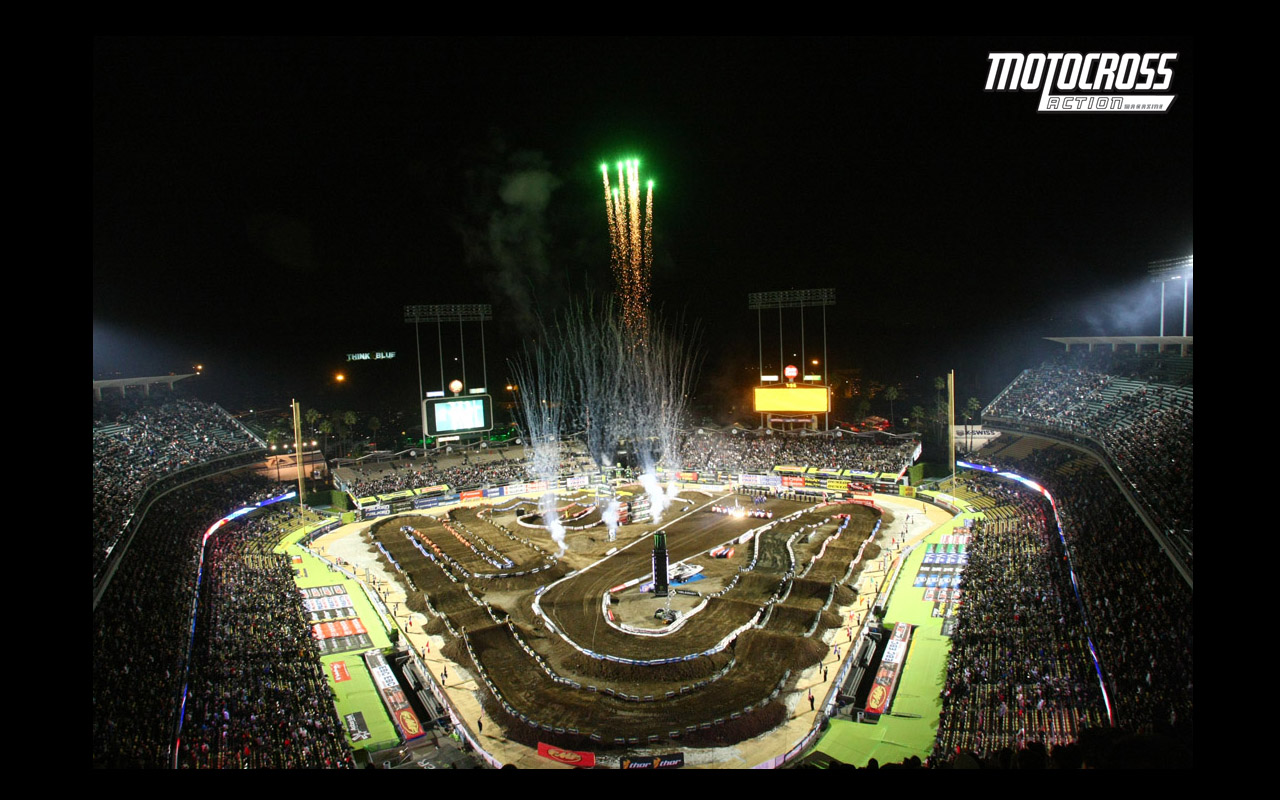 2022 AMA SUPERCROSS CHAMPIONSHIP
Jan. 8…Anaheim, CA
Jan. 15…Oakland, CA
Jan. 22…San Diego, CA
Jan. 29…Anaheim, CA
Feb. 5…Glendale, AZ
Feb. 12…Anaheim, CA
Feb. 19… Minneapolis, MN
Feb. 26… Arlington, TX
Mar. 5…Daytona Beach, FL
Mar. 12…Detroit, MI
Mar. 19…Indianapolis, IN
Mar. 26…Seattle, WA
Apr. 9…St. Louis, MO
Apr. 16…Atlanta, GA
Apr. 23…Foxborough, MA
Apr. 30…Denver, CO
May 7…Salt Lake City, UT
2022 FIM GRAND PRIX CHAMPIONSHIP (TENTATIVE)
Feb. 20…Matterley Basin, England
Mar. 6…TBA, Argentina
Mar. 20…TBA
Mar. 27…Oss, Holland
April 10…Trentino, Italy
Apr. 24…Kegums, Latvia
May 1…Orlyonok, Russia
May 15…Rio Sardo, Sardinia.
May 29…Intu Xanadu, Spain
June 5…Ernee, France
June 12…Teutschenthal, Germany
June 26…Jakarta, Indonesia
July 3… Semarang, Indonesia
July 17…Locket, Czech Republic
July 24…Lommel, Belgium
Aug. 7…Uddevalla, Sweden
Aug. 14…KymiRing, Finland
Aug 21…St. Jean d' Angely, France
Sept. 4…Afyonkarahisar, Turkey
Sept. 18…TBA
2022 AMA NATIONAL MOTOCROSS CHAMPIONSHIP
May 28…Pala, CA
June 4…Hangtown, CA
June 11…Thunder Valley, CO
June 18…Mt. Morris, PA
July 3…Red Bud, MI
July 9…Southwick, MA
July 16….Millville, MN
July 23….Washougal, WA
Aug. 13…Unadilla, NY
Aug. 20…Budds Creek, MD
Aug. 27…Crawfordsville, IN
Sept. 3…Pala, CA
2022 KICKER ARENACROSS SERIES
Jan. 7-8…Loveland, CO
Jan. 15…Amarillo, TX
Jan. 21-22…Oklahoma City, OK
Jan. 29…Greensboro, NC
Feb. 4-5…Reno, NV
Feb. 11-12…Denver, CO
2022 WORLD SIDECAR MOTOCROSS CHAMPIONSHIP
Apr. 24… Holland
May. 22…Czech Republic
June 12…Holland
June 26…Ukraine
July 3…Estonia
July 10…TBA
July 23…No. Ireland
July 31…Germany
Aug. 7…TBA
Aug. 28…Czech Republic
Sept. 4…Slovenia
Sept.18…Germany
2022 WORCS OFF-ROAD SCHEDULE
Jan. 21-23…Primm, NV
Feb. 18-20…Glen Helen, CA
Mar. 11-13…Lake Havasu City, AZ
Apr. 8-10…Taft, CA
Apr. 29-May 1…Las Vegas, NV
May 27-29…Cedar City, UT
Sept. 16-18…Preston, ID
Oct. 14-16…Mesquite, NV
Nov 4-6…Primm, NV
2022 CANADIAN TRIPLE CROWN SERIES
June 5…Kamloops, BC
June 12…Drumheller, AB
June 19…Pilot Mound, MB
July 3…Walton, ON
July 10…Courtland, ON
July 17…Ottawa, ON
July 24…Moncton, NB
July 31…Deschambault, QC
Aug. 14…Walton, ON
2022 GERMAN ADAC MOTOCROSS MASTERS
Apr. 3…Princely Drehna
May 22…Dreetz
June 19…Möggers
July 3…Bielstein
July 10…Tensfeld
July 31…Gaildorf
Sept. 4…Jauer
Sept. 11…Holzgerlingen
2022 MICHELIN BRITISH CHAMPIONSHIP
Mar. 20…TBA
May 1…TBA
May 29…TBA
July 3…TBA
Aug. 7…TBA
Sept. 4…TBA
2022 IRISH NATIONAL CHAMPIONSHIP
Mar. 27…TBA
Apr. 10…TBA
June 5… TBA
June 26… Loughbrickland
July 24…TBA
Aug. 21… Saul
2022 DUTCH MASTERS SERIES
Mar. 13…Arnhem
April 18…Oldebroek (Monday)
May 8…Harfsen
May22…Oss
June18…Rhenen
2022 MOTOCROSS DES NATIONS
Sept. 25… Red Bud.Michigan

The MXA wrecking crew is everything moto related. Check out our MXA YouTube channel for bike reviews, Supercross coverage, rider interviews and much more. And don't forget to hit that subscribe button.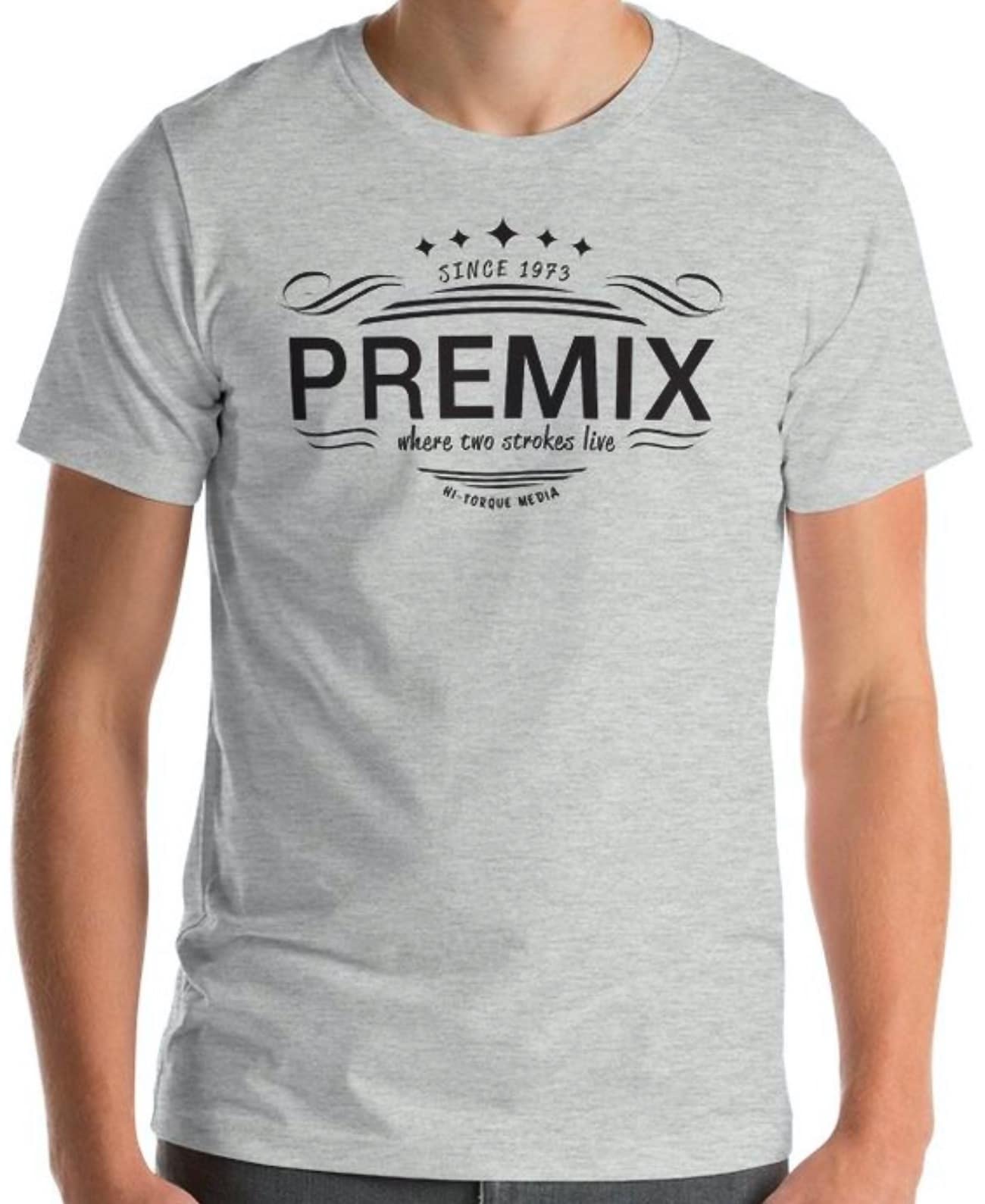 MXA PREMIX T-SHIRT—$29.95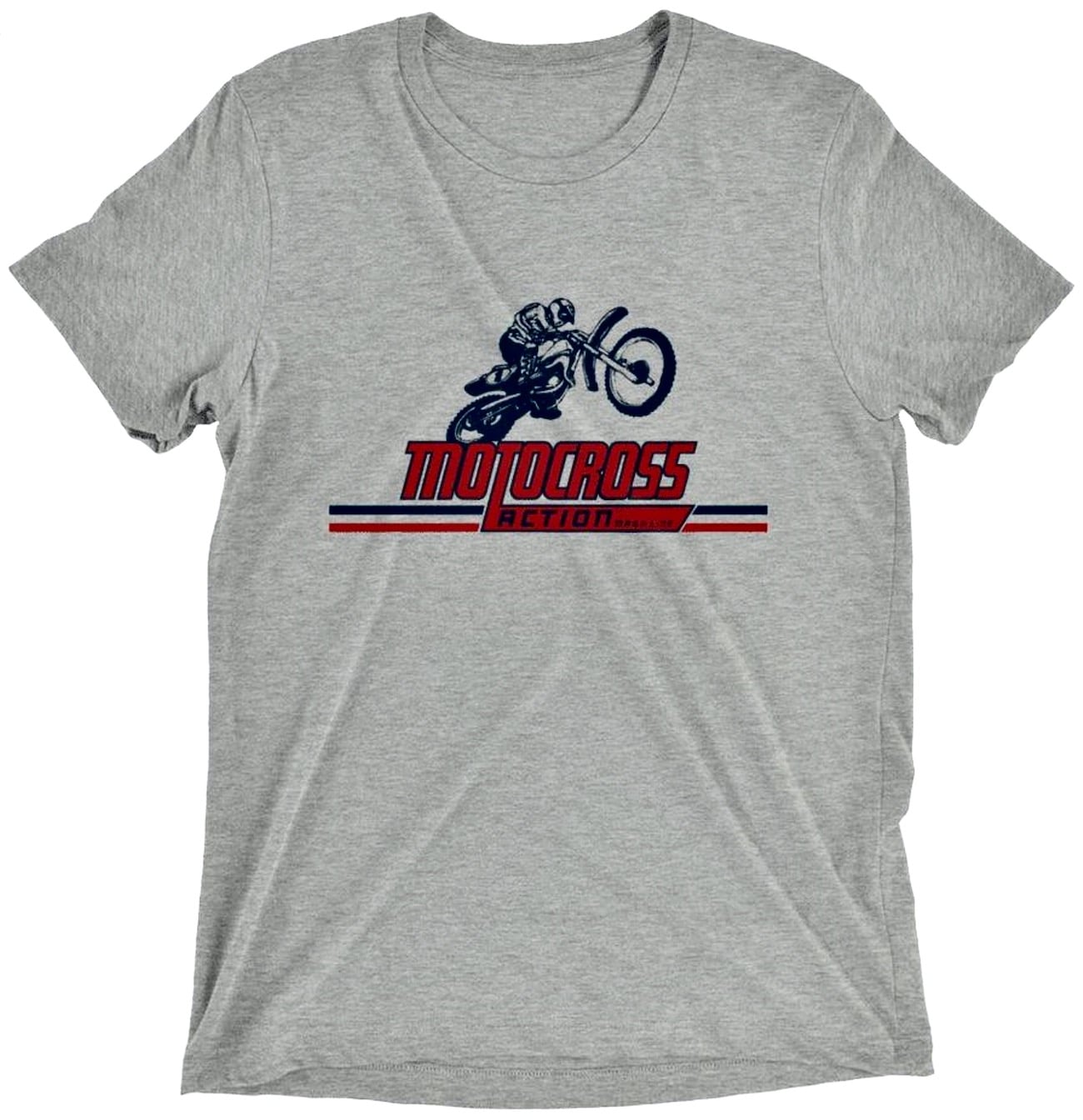 MXA VINTAGE T-SHIRT—$29.95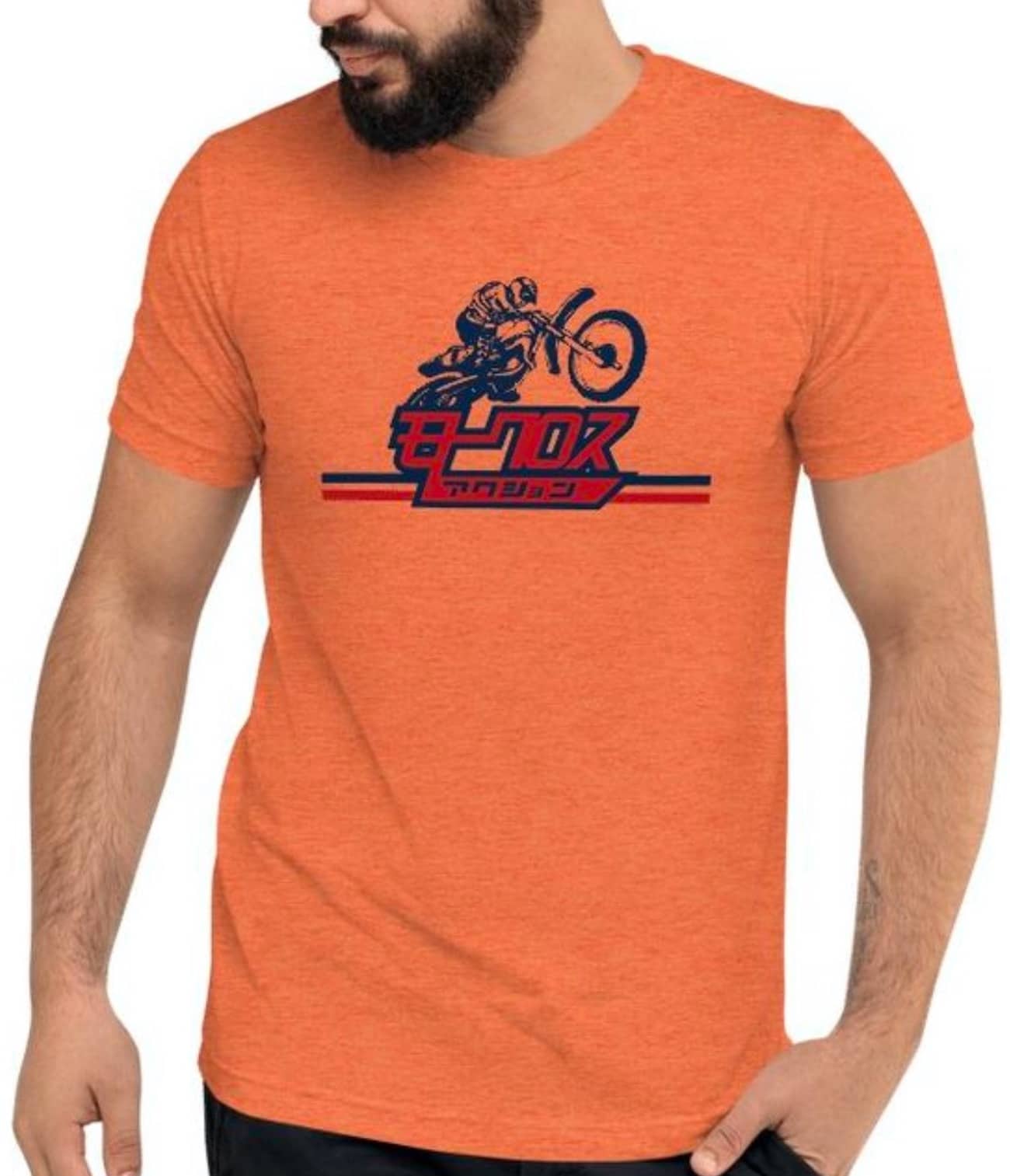 MXA JAPANESE LOGO T-SHIRT—$29.95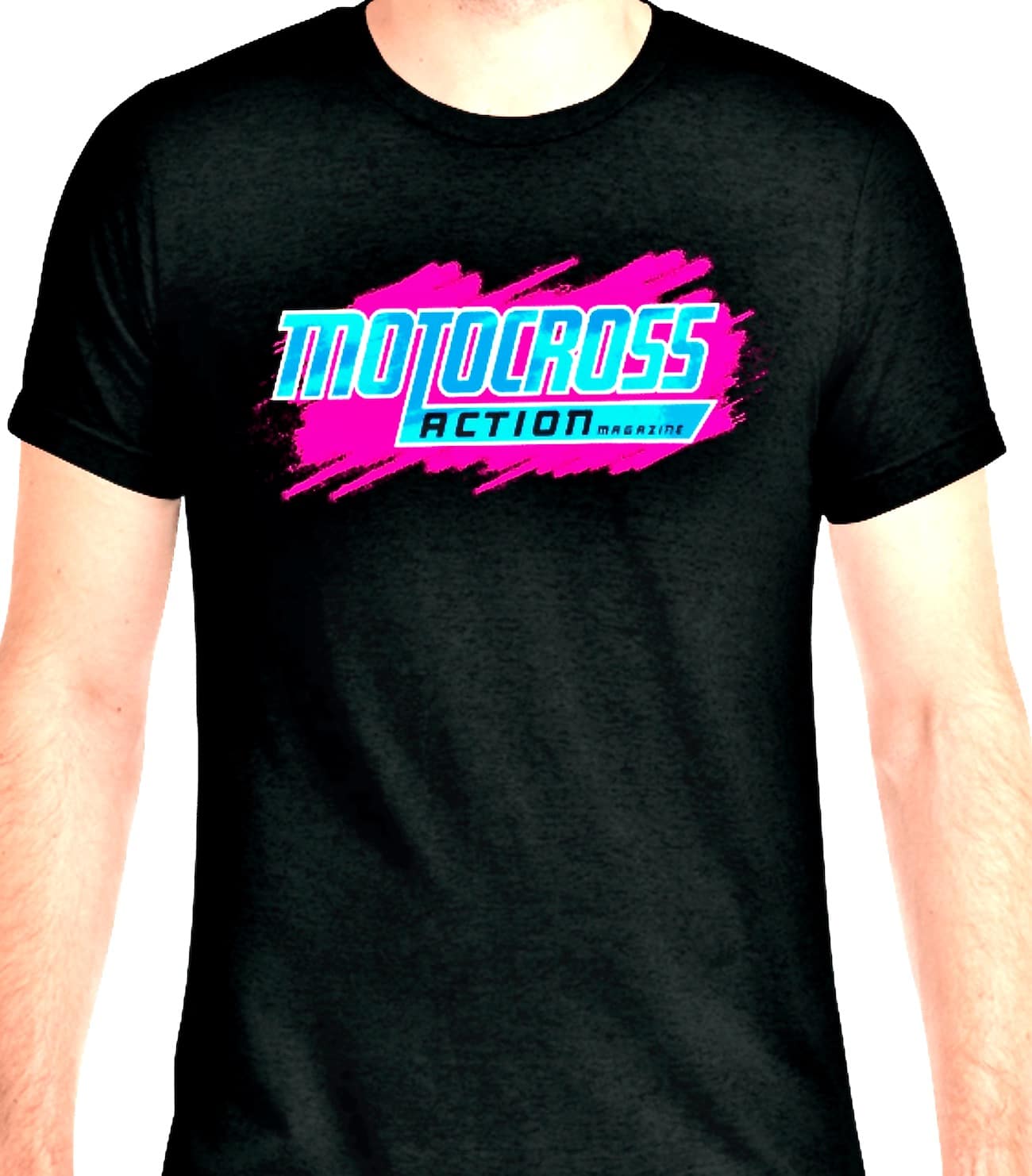 MXA 80s T-SHIRT—$29.95
To see more MXA T-shirts and all the available colors Click Here


We love everything moto and want to bring all moto junkies together into one place to share their two cents, ideas, photos, bike fixes, bike problems and much more. To check it out first you must need to or already have a Facebook account. If you don't, it isn't much work and you could even have an alias so nobody knows it is you. To join click HERE. After you request to join we will accept your request shortly after.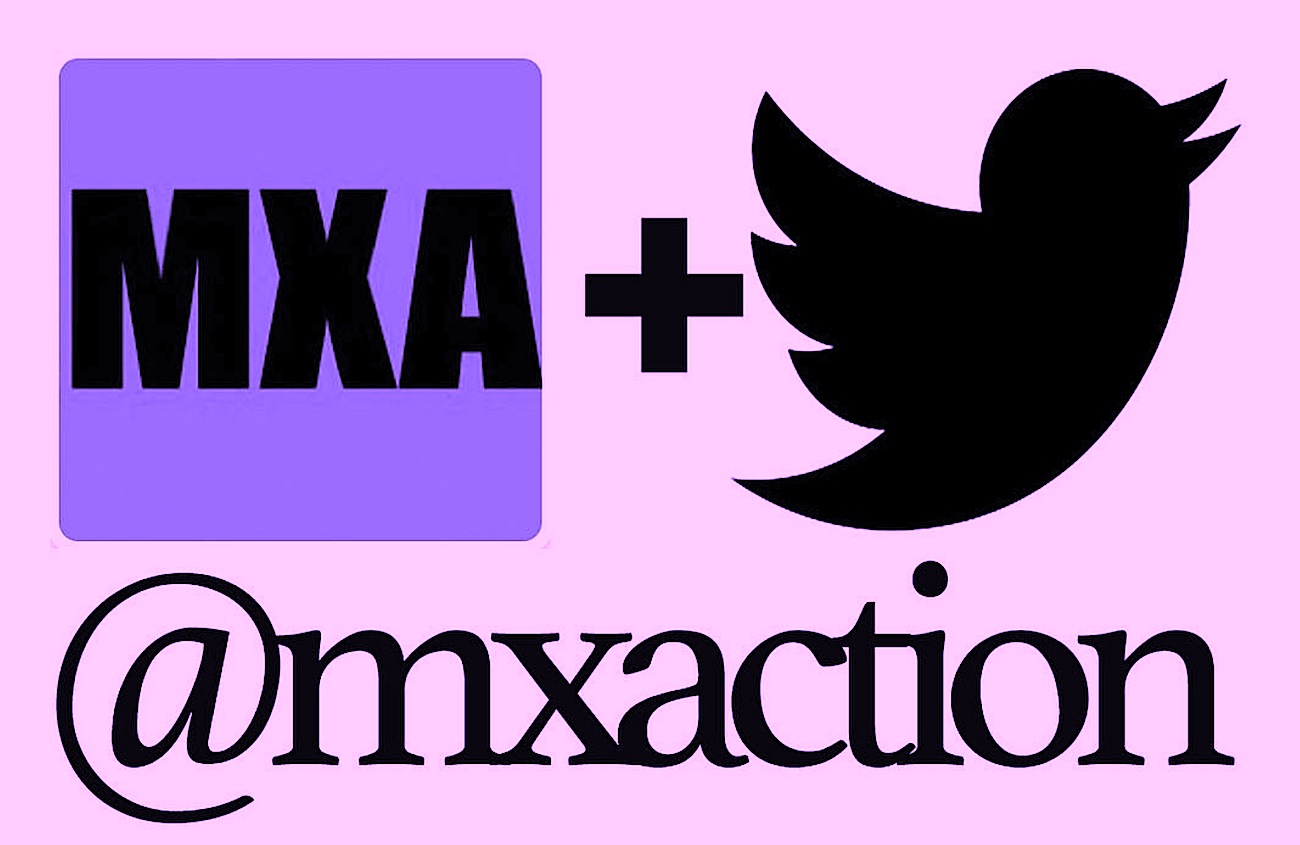 Follow us to see fresh content every day at www.twitter.com/MXAction or on Twitter at "MXAction."
Photos Credits: Debbi Tamietti, Kawasaki, KTM, MXGP, Trevor Nelson, Ray Archer, Jon Ortner, Brian Converse, Honda, Yamaha, Husqvarna, Daryl Ecklund, Yamaha, MXA archive
Prev Post
MXA PRODUCT SPOTLIGHT: VINTCO VINTAGE MOTOCROSS PARTS—FOR 1970 THROUGH 1980 BIKES
Next Post
FLASHBACK FRIDAY | DAMON HUFFMAN'S 125 GLORY DAYS
TRUE CONFESSIONS OF THE FIRST MXA TEST RIDER
2022 SUPERCROSS INTERNATIONAL STREAMING SERVICE: $129.95 (ONE-YEAR SUBSCRIPTION)
RANDOM RADNESS // 27
THIS WEEK IN MXA: MICHAEL MOSIMAN ON BANGING BARS WITH JUSTIN BARCIA
News
CLASSIC MOTOCROSS IRON: 1962 BSA 500 CATALINA SCRAMBLER
TEN THINGS YOU NEED TO KNOW ABOUT DEFEATING ARM PUMP
MOTOCROSS HEROES: THE LIFE & TIMES OF TONY D VIDEO
TEN THINGS YOU NEED TO KNOW ABOUT AIR FILTER OIL
Motocross Actions Videos
MOTOCROSS HEROES: THE LIFE & TIMES OF TONY D VIDEO
WE RIDE THE DREAM BIKE OF THE KTM INSIDER—PLUS VIDEO
INSIDE RICKY CARMICHAEL'S ALL-DOMINANT HONDA CR250 TWO-STROKE…
2022 SUPERCROSS INTERNATIONAL STREAMING SERVICE: $129.95 (ONE-YEAR SUBSCRIPTION)
THIS WEEK IN MXA: MICHAEL MOSIMAN ON BANGING BARS WITH JUSTIN BARCIA
MXA VIDEO: WE TEST THE ALL-NEW 2022 YAMAHA YZ125 TWO-STROKE
MITCH EVANS INTERVIEW: EVEN AFTER A YEAR OFF, THE HRC HONDA MXGP TEAM HAS STUCK WITH…
THIS WEEK IN MXA: MICHAEL MOSIMAN ON BANGING BARS WITH JUSTIN BARCIA
MXA VIDEO: WE TEST THE ALL-NEW 2022 YAMAHA YZ125 TWO-STROKE
MXA VIDEO: WE TEST THE 2022 KAWASAKI KX250
MXA VIDEO: WE TEST THE 2022 HUSQVARNA FC250
MXA TEAM TESTED: SLATER SKINS HIGH-FLOW YZ-F AIRBOX COVER
MXA TEAM TESTED: 3DP MOTO YZ450F/YZ250F INTAKE SCOOP
MXA TEAM TESTED: TWISTED DEVELOPMENT 450SXF EXHAUST FLANGE
MXA TEAM TESTED: BOYESEN SUPERCOOLER WATER PUMP